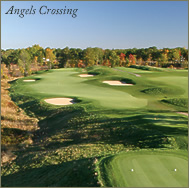 Since 1991, I have designed over 45 new courses and renovated over 60. I am widely recognized for my ability to design an upscale golf course for an affordable price. While this is a slight hindrance in fame and fortune, it is very satisfying to help others.
My designs reflect a lifetime in golf. I have experienced and know all facets of the golf course business. I have been a superintendent for public and high end private clubs and I have operated a public course for profit. These experiences influence how I design a course. Challenging and beautiful golf courses can still be efficient to build and operate. I utilize careful stewardship of resources to further the game of golf in challenging times.
Please feel free to read more about my design philosophy, as well as my family's history in the golf business. You can also get a look into the design process, as well as browse my portfolio and photo gallery of original courses and renovation projects.
Thanks for taking the time to learn more about Matthews Design Group,




Times are changing in the golf industry. A number of our clients are adapting to the changing times by providing more inclusive recreational features to their courses. Country Club of Lansing is adding a shorter set of tees, providing an enjoyable round for more members. Country Club of Lansing is taking the lead in Michigan on the industry's "play it forward" movement.
Railside Golf Club built a new short game area. Cascade Hills Country Club is presently in the planning stages of a renovated practice facility which includes a lesson area, heated tees and a short game area. Beach Grove Golf & Country Club, Tecumseh, Ontario has a new practice range with a 9-hole short course in the future plans.
As our lives change and challenges within our industry continue on, many courses are looking for future golfers and providing existing players a new experience with prudent course improvements.