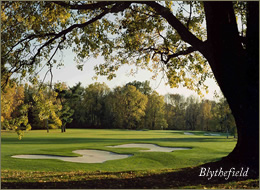 I come from a family background steeped in golf. My dad managed the family-owned Grand Haven Golf Club located behind the sand dunes of the Lake Michigan shoreline. The course offered my siblings, cousins and me an opportunity to learn to work at an early age.
My career started with cleaning clubs, picking the range, filling pop machines, sweeping and cleaning during the summers. Soon I was working the counter and helping my dad grill steaks for outings. When I was fourteen I was able to work on the grounds crew. Roger Barton, whose brilliance is sometimes lost in his easygoing manner, was the superintendent. I have always admired his management of grasses and people. I still seek his advice and approval in my design business. Golf course architecture involves many disciplines; an important one is the ability to communicate technical knowledge in layman terms to get a job done well. Roger taught me this discipline.
My granddad, a Stiles and VanKleek prodigy, lived down the road from my childhood home. He was friends and worked with early icons of modern golf: Walter Hagen, golf professional; O.J. Noer, scientist; Tom Mascaro, equipment inventor. I met a lot of his friends and caddied for a couple of them. I rode with my granddad on a couple of trips to his golf course projects under construction. I liked his lifestyle and enjoyed his stories. I wanted to be a golf course architect.
My granddad's design philosophy was "design for the masses." The average golfer, the majority of a course's income source, should not be punished with undue hardships through the round. My granddad never built a fairway bunker. That's not to say sand didn't flank the fairways, as many of his courses were built through the sandy soils of western and northern Michigan. He was concerned about the owner making a profit. He was a very good router and the minimalist designs took full advantage of the existing features.
My uncle Jerry worked with my granddad as his associate designer from 1960-1988 until illness required my granddad to step aside. Jerry has a Masters in Urban Planning and he is a very good conceptual designer. I worked for my granddad and Jerry for two years and for Jerry another three years after my granddad's illness.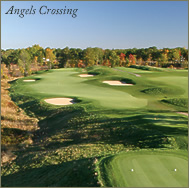 My dad, manager of Grand Haven Golf Club for 37 years, would have been just as happy managing a hunt or fish club for the same period of time. My dad spent hours studying hunting and fishing techniques. He could not wait for his passion, hunting season, putting into practice his studies of finding game. He can read the land as well or better than his dad. Reading the land, topography, vegetation, is a given gift in golf course design. If you don't have it, it is extremely difficult to learn. The pure function of a golf course is dependent on a designer's ability to meld the game and the site. My dad gave me the gift of "reading the land."
Each site has a history that can be worked into the game. The pine stump hedge row hidden beneath the vines, the silo of the old farm, the moss covered stones from the farmer's field are all assets to a sense of place. The natural features of a site are opportunities to shape a course that blends easily with its surroundings. Golfers highly value the resulting setting; because golf is not merely a game… it is an opportunity to enjoy the outdoors and the ever changing patterns of nature.



Times are changing in the golf industry. A number of our clients are adapting to the changing times by providing more inclusive recreational features to their courses. Country Club of Lansing is adding a shorter set of tees, providing an enjoyable round for more members. Country Club of Lansing is taking the lead in Michigan on the industry's "play it forward" movement.
Railside Golf Club built a new short game area. Cascade Hills Country Club is presently in the planning stages of a renovated practice facility which includes a lesson area, heated tees and a short game area. Beach Grove Golf & Country Club, Tecumseh, Ontario has a new practice range with a 9-hole short course in the future plans.
As our lives change and challenges within our industry continue on, many courses are looking for future golfers and providing existing players a new experience with prudent course improvements.